This is my forum for telling the world what's keeping me busy these days.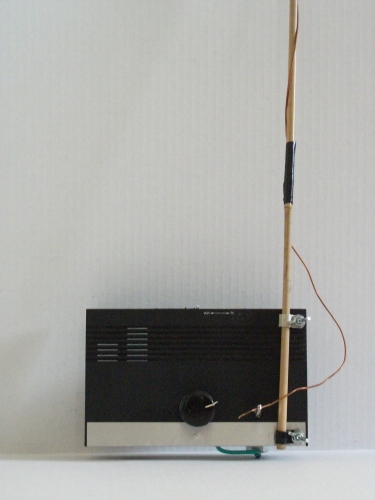 This is my homebrew, counterpoise-free portable HF antenna

If you search on the web for "miracle whip antenna" you will find several articles about portable HF antennas, including places to buy commercially available ones. Preferring to "roll my own", I made the antenna shown here based on
N2FFL's project
, which is, in turn, based on an article in
QST magazine
.
As usual, I made some changes to the original design. I wanted to be able to experiment with different whips, so I attached the whip with 2 clamps with wingnuts. The electrical connection to the conductor is made with a small alligator clip. The mechanical layout is completely different from the original, because I wanted to be able to walk down the sidewalk working HF. Also, as always, I wanted to build it as much as possible with junk box and local parts.
Questions? Comments? Email me - jim (at) jimdaldry.com